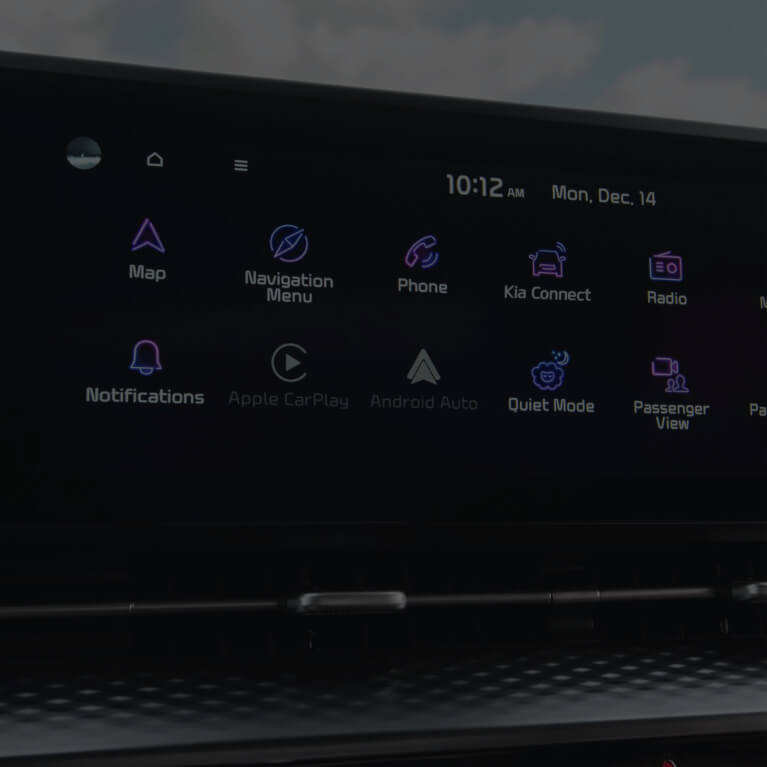 Intro
Collection
Use & Sharing
Third Parties
Preferences
Processing Information
Children & Minors
Security
Retention
Changes to the Privacy Policy
CA, CO, CT, UT or VA
Introduction
These pages summarize and break down the Kia Connect Privacy Policy, which was updated and effective on January 1, 2023. Please click here to review the Kia Connect Privacy Policy in its entirety. Capitalized terms not defined in these pages have the meaning provided to them in the Kia Connect Privacy Policy.
The Privacy Policy describes how we at Kia America, Inc. collect, use, and disclose information when you use Kia Connect Services. The Privacy Policy governs your use of Kia Connect Services, our use of your data and data collected from your vehicle through Kia Connect Services, and also applies to your use of the interactive features, widgets, Apps, content or downloads made available through (or that interact with) Kia Connect Services and which post a link to the Kia Connect Privacy Policy.
If we provide you notice on any Kia Connect Services of different or additional privacy policies or practices, those additional terms shall govern such data collection and use.
Please also review the Kia Connect Terms of Service, which governs your use of Kia Connect Services. By using Kia Connect Services, you consent to the Kia Connect Privacy Policy and Terms of Service.
The Kia Connect Privacy Policy only governs our privacy practices for Kia Connect Services and does not govern the privacy practices of our partners (such as Kia Finance or dealers that sell Kia vehicles), even if you contact them or connect to their websites from Kia Connect Services. To learn about the privacy practices of our partners, please review their privacy policies.

Who We Are

Kia America is a United States based subsidiary of Kia Corporation, which is based in Seoul, South Korea. We are the exclusive distributor of Kia-branded vehicles, parts, and accessories in the United States.
Collection
Through Kia Connect Services, we collect "Personal Information," which is information that identifies, relates to, describes, or could be associated with or reasonably linked to you or your household. Depending on how you use the available Kia Connect Services, we may have collected the following categories of Personal Information from you in the last twelve (12) months. Please note that we have not collected every type of Personal Information identified in the Examples below on every user of Kia Connect Services, and the types of Personal Information we have collected on, or disclosed about, any consumer depends on what Kia Connect Services the consumer has used.
Our data collection varies depending on the Kia Connect Services available in your vehicle, and how you may choose to interact with us and the Kia Connect Services. We may collect information in the following ways:
Directly From You and Your Vehicle. The following types of information may be provided to us by you or your vehicle or our third-party service providers, as applicable:

Personal and Demographic Information.

When you sign-up to use Kia Connect Services, you may provide us or our third-party service providers with identifiers and demographic information. We may collect this information through various forms and from various places on Kia Connect Services, or when you otherwise interact with certain Kia Connect Services.

Vehicle Information.

When using your vehicle, certain Kia Connect Services automatically (or passively), collect, store, and transmit to us or our third-party service providers information about your vehicle. This type of information may include:
information about your vehicle's operation, performance and condition, including diagnostic trouble codes, tire pressure, fuel economy and odometer readings, battery information, etc.;
driver behavior information, such as vehicle speed, seat belt use, braking habits, collisions with air bag deployment, etc.;
information about your use of the vehicle and its features, such as whether mobile device has been paired;
precise geographic location of your vehicle;
data about remote services we may make available such as remote lock/unlock, start/stop charge, parking location, climate control, charge schedules, and vehicle status check;
information about the vehicle itself, such as the vehicle identification number (VIN), model, model year, trim, selling dealer, servicing dealer, date of purchase or lease and service history.
Automatic Data Collection Technologies. As you navigate through and interact with Kia Connect Services, we and our third-party service providers may use automatic data collection technologies that automatically (or passively) store or collect certain information. This information may be stored or accessed using a variety of technologies that may be downloaded to your vehicle's hardware, your personal computer, mobile phone or other device. The information may include, but is not limited to, the following:

Device Information.

Information about the device used to access Kia Connect Services, which may include IP address or other identifier that is automatically assigned to a device used to access Kia Connect Services; device functionality (including browser, operating system, hardware and mobile network information), location, and characteristics; and other device data, including the time of day, among other information.

Cookies, Web Beacons, Embedded Scripts, ETags.

Cookies are data files that may be placed on a device used to utilize Kia Connect Services. We may use Cookies for many purposes, including, without limitation, remembering a user and his/her preferences, and learning how you interact with our Kia Connect Services. Please be aware that if you disable or remove cookies on a Device that you use to utilize Kia Connect Services, your ability to limit cookies is subject to your browser settings and limitations.
Web beacons are small graphic images or other web programming code that may be included in our Kia Connect Services. Web beacons may be invisible to you, but any electronic image or other web programming code inserted into a web or mobile page or e-mail can act as a web beacon. Web beacons or similar technologies may be used for a number of purposes, including, without limitation, to count users of Kia Connect Services and to learn how users interact with Kia Connect Services, to let us know whether you viewed our emails or other electronic communications, and to learn whether our ads are effective.
Embedded scripts are code that helps us collect information about a user's interactions with certain Kia Connect Services, such as the links clicked on. The code is temporarily downloaded onto your device from our web server or a third party service provider, and is active only while you are connected to Kia Connect Services.
ETags are a feature of the cache in browsers. It is an opaque identifier assigned by a web server to a specific version of a resource found at a URL. If the resource content at that URL ever changes, a new and different ETag is assigned. Used in this manner ETags are a form of Device Identifier. ETag tracking may generate unique tracking values even where the consumer blocks HTTP, Flash, and/or HTML5 cookies.

Location-Based Information.

Some Kia Connect Services use GPS (or other location-based services) to locate you so that we may verify your exact location, deliver relevant content based on your location, and provide certain Kia Connect Services.
Recorded Conversations. If you or your passengers call our customer service center, we (or our service providers) may monitor and record the conversations. Additionally, we and our service providers may collect and store audio files when you use certain Kia Connect features that incorporate voice recognition technologies. We may collect, record, store and monitor such conversations and interactions to maintain and improve the quality of our service, for training purposes or to promote and provide Kia Connect Services. Call center advisors may remain on the line, if, during a request for service, we conference in a third party such as emergency service providers or the police.
Co-branded Areas. Certain areas of Kia Connect Services may be provided to you in association with third parties such as sponsors and Kia dealers and may require you to disclose Personal Information to them. Such Co-Branded Areas will identify the third party, which will have its own privacy policy that applies to the third party's collection and use of your information. If you elect to register for products and/or services, communicate with such third parties or download their content or Apps, at Co-Branded Areas, you may be providing your information to both us and the third party. Further, if you sign-in to a Co-Branded Area with a username and password obtained on Kia Connect Services, your Personal Information may be disclosed to the identified third parties for that Co-Branded Area. We are not responsible for such third party's data collection practices and you should review the third party's privacy policy for more information.
Use & Sharing
We may use the information we collect to:
Process your registration for Kia Connect Services;
Provide you with information or services that you have requested or agreed to receive;
Enable you to use Kia Connect features such as Roadside Assistance, Find My Car, or Remote Start with Climate Control (depending on availability);
Administer features of the Kia Connect Services, such as sweepstakes, contests, and other promotions, including fulfillment of a loyalty or rewards program;
Understand your preferences to enhance, customize and personalize your experience;
Send you special offers or promotional materials on behalf of us or third parties;
Maintain, operate, and improve Kia Connect Services and our vehicles, and to develop new features;
Contact you with regard to your use of Kia Connect Services or changes to Kia Connect Services and/or policies;
Advise you of important safety-related information, such as recalls;
Learn more about our customers and their experiences and to monitor your satisfaction with Kia products and Kia Connect Services;
Detect and prevent fraudulent, unlawful, unauthorized, or abusive use of Kia Connect Services;
Conduct internal research;
Support our internal business operations; and
Process information as disclosed at the time we collect the information.
We may disclose your information to third parties including our affiliates and our partners and their service providers. We may also disclose your information to our service providers who assist us in providing various Kia Connect Services features, such as:
Crash Notification Assistance. Kia Connect Services may automatically connect you to the police, fire department, or ambulance service if the airbag deploys in your Vehicle. We will provide them with your location so they can find you and respond to your emergency.
Roadside Assistance. If you request roadside assistance, we may provide roadside assistance providers with your location so they may locate and assist you.
Content-Based Services. The location of your vehicle is collected and used to provide content-based services such as navigation, maps, guidance, point-of-interest searches, finding charging stations, etc.
My Car Zone Features: Curfew Alerts, Geo-Fence, & Speed Watch. Kia Connect Services may allow you to obtain information about a vehicle's location and other information, including the speed the vehicle was driven.
Location Sharing. When Kia Connect Services are active in your Vehicle, your Vehicle's location information may be sent to all persons/Devices that have been designated in your preferences via Kia Connect Services.
When You Request Information From or Provide Information to Third Parties. You may be presented with an option on our Kia Connect Services to receive certain information and/or marketing offers directly from third parties or to have us send certain information to third parties or give them access to it. If you choose to do so, your Personal Information may be disclosed to such third parties and the information you disclose will be subject to the privacy policies and practices of such third parties. In addition, third parties may store, collect or otherwise have access to your information when you interact with their technologies, content, tools, Apps or ads through our Kia Connect Services or link to them from our Kia Connect Services. This may include using third party tools such as Twitter, Google Maps, HERE Maps, or other third party posting or content sharing tools.
Third Parties Providing Services on Our Behalf. While Kia Connect Services are provided by Kia, we may interact with and/or engage third party providers as necessary to provide Kia Connect Services. Those third-party providers include anyone who provides any service, equipment, or facilities in connection with Kia Connect Services, such as wireless service providers, telematics service providers, wireless carriers, suppliers, licensors, emergency responders, roadside assistance companies, dealers, etc. Additionally, we may use third party vendors to perform certain services on our behalf, such as hosting Kia Connect Services, designing and/or operating features, tracking Kia Connect Services activities and analytics, and enabling us to send you special offers or perform other administrative services. We may provide these vendors with access to user information to carry out the services they are performing for you or for us.
Administrative and Legal Reasons. We may also disclose your information to satisfy any applicable law, regulation, subpoenas, court orders, warrants, governmental requests, or legal process if in our good faith opinion such is required or permitted by law. We may also share your information with a third party performing audit, legal, operational, or other similar services for or on behalf of Kia.
Affiliates and Business Transfer. We may disclose your information to our affiliates. We also reserve the right to disclose and transfer the information we collect: (i) to a subsequent owner, co-owner, or operator of the Kia Connect Services or applicable databases; or (ii) in connection with the negotiation, planning, or completion of a corporate merger, consolidation, restructure, sale of substantially all of our shares or assets, or other corporate change.
We do not disclose Personal Information that we collected directly from you on our Kia Connect Services with third parties for their marketing purposes unless you consent.
Third Parties

Third-Party Content, Services and Links

Kia Connect Services may contain content supplied by third parties, and those third parties may collect information about your use of Kia Connect Services, and may be able to track your online activities. In addition, when you are using Kia Connect Services you may be directed to other services that are operated by third parties that we do not control. We are not responsible for the privacy practices employed by any of these third parties and we encourage you to read the privacy policies of all third party websites or applications.

Third-Party Apps

Third-party Apps may be available via Kia Connect Services and our App Center. The owners of these Apps may collect Personal Information and other data from you and may have their own policies and practices. We are not responsible for how Third-Party Owners or their Apps collect or use your information. Be sure to review any available policies.
Preferences
You are responsible for maintaining the accuracy of the information you submit to us, such as your contact information provided with your Kia Owners Portal account registration. Your account may allow you to review, correct, or update information that you have provided through Kia Connect Services. If you make changes to your account information, we will make good faith efforts to make the same changes in our active databases as soon as reasonably practicable. Please note that when you edit your information or change your preferences on your account, information that you remove may persist internally for Kia's administrative purposes.
You may opt-out from receiving or modify your marketing communications preferences by following the instructions contained within our promotional e-mails or in some cases by logging into your account and changing your communication preferences. This will not affect subsequent subscriptions and if your opt-out is limited to certain types of communications or communication types, the opt-out will be so limited.
If you subscribe to text messages from us, you can terminate a particular text message subscription by reply texting "STOP." Subsequent or different subscriptions will be unaffected.
Please note that we reserve the right to send you certain communications relating to your Kia Owners Portal account or use of Kia Connect Services, such as administrative and service announcements, and these transactional account messages may be unaffected if you choose to opt-out from receiving our marketing communications.
With respect to the Kia Connect Services App, you can prospectively stop all collection of information through your mobile device by uninstalling the application.
If you wish for Kia Connect Services to stop collecting vehicle information, please contact your vehicle technician who can determine whether your Kia Connect Services is collecting such information and/or whether Kia Connect Services hardware can be deactivated or uninstalled from your vehicle.
Eligible residents of California, Colorado, Connecticut, Utah, and Virginia may have additional rights related to their Personal Information, including the right to access, delete or correct such information, the right to opt out of sales, sharing or use of their Personal Information for profiling purposes, the right to limit the use and disclosure of their Sensitive Personal Information and the right to be free from discrimination for exercising their rights. Eligible residents of these states may also appeal any decision or indecision related to the exercise of any right provided under applicable law.
Processing Information
Kia Connect Services are operated from the United States and intended for users located in the United States. If you are located anywhere outside of the United States, please be aware that information we collect, including Personal Information, will be transferred to, processed in, and stored in the United States. The data protection laws in the United States may differ from those of the country in which you are located, and your Personal Information may be subject to access requests from governments, courts, or law enforcement in the United States according to laws of the United States. By using Kia Connect Services or providing us with any information, you consent to this transfer, processing and storage of your information in the United States.
Children & Minors
We do not knowingly collect Personal Information from anyone under the age of sixteen (16) nor do we knowingly sell or share the Personal Information of children or minors younger than sixteen (16) years of age. We will delete any Personal Information collected through the Kia Connect Services if it is later determined that the information belongs to a minor younger than the age of sixteen (16).
If you are a parent or guardian of a child under the age of sixteen (16) and believe he or she has disclosed Personal Information to us, please contact us at 1-800-333-4542.
Security
We incorporate commercially reasonable security procedures and practices to help protect and secure your Personal Information. However, no data transmission over the Internet, wireless transmission, or electronic storage of information can be guaranteed to be 100% secure. Please note that we cannot ensure the security of any information that we collect, and you use Kia Connect Services provide us with your information at your own risk.
Retention
Kia is committed to only retaining Personal Information and vehicle information as necessary to fulfill a legitimate business purpose and deleting or de-identifying the information thereafter. The legitimate business purposes for which we retain information are described throughout the Privacy Policy but may additionally include, without limitation:
to provide, develop and improve products and services;
to maintain the security, integrity and operation of Kia Connect Services;
to comply with legal and regulatory obligations and other third party requirements;
to resolve disputes and enforce our agreements;
to diagnose and troubleshoot vehicle systems and improve vehicle safety;
to communicate with you;
to prevent fraud or criminal activity;
to maintain warranty and business records; and
for other purposes we determine in our sole discretion.
In certain instances, this may potentially include retaining Personal Information and vehicle information in perpetuity provided we have a legitimate business purpose for needing to retain the information forever. Once we determine there is no longer a legitimate business purpose, we will delete or de-identify such information, as determined in our sole discretion.
The criteria used to determine our retention period includes:
The length of time we have an ongoing relationship with you and provide the Kia Connect Services to you;
The legitimate business purposes for which we collect and process your Personal Information and Vehicle Information as described above; and
Whether there is a legal obligation to which we are subject that requires us to keep records before we can delete them.
Changes to the Privacy Policy
We reserve the right to change the Privacy Policy from time to time. Any changes will be effective immediately upon the posting of the updated Privacy Policy at https://owners.kia.com/content/owners/en/privacy-policy.html, or such later date as may be specified. We may also elect to notify you of changes or updates to our Privacy Policy, such as by email or by posting a notice on our website or mobile applications. Therefore, you should review the Privacy Policy from time to time, and before using any of our Services. You are responsible for ensuring we have a deliverable email address for you, and for periodically monitoring and reviewing any updates to this policy. Your continued use of Kia Connect Services after such amendments will be deemed your acknowledgement of these changes to the Privacy Policy.
California, Colorado, Connecticut, Utah and Virginia
Applicable law provides eligible California, Colorado, Connecticut, Utah and Virginia residents with specific rights with respect to our collection, retention, and use of Personal Information. Please review the full Kia Connect Privacy Policy to learn about these rights.
Eligible California, Colorado, Connecticut, Utah and Virginia residents may exercise their rights under applicable law by submitting a verifiable consumer request by either: